You have probably said it or least heard it " You are what you eat" This expression is accurate. Now there is an abundance of factors that contribute to healthy glowing skin. Some foods because of their vitamin, mineral and antioxidant content actually promote healthy skin. I searched the internet for meals that contain two or more foods with properties known to protect or repair the skin. Please you must understand that these foods are not a substitute for preventive measures like sunscreen. From Quinoa to dark chocolate here are 5 ways to eat your way to better skin.
Breakfast
Quinoa Breakfast Cereal with Berries and Almonds
Quinoa has extra protein and is also rich in selenium which improves the skin's elasticity. Blueberries are rich in antioxidants, which fight off free radicals. Almonds are a great source of vitamin E, which protects our skins from the
Kale, Apple, Raspberry, and Goji Green Smoothie
You can sip your way to healthier skin with this nutrient-packed smoothie. It is packed with Vit K, which suppresses inflammation. Goji berry is a huge source of antioxidants, which suppress the signs of aging like liver spots or spider veins. Apples are a healthy skin superfruit: Fuji and Red Delicious rank the highest in antioxidants.
Salads
This Mediterranean salad is composed primarily of fruit, vegetables, whole grain, fish, beans, nuts, and olive oil. Your skin will love you for eating this because it is high in fiber, antioxidant-rich, and omega 3. This will protect the skin from acne flare-ups.
This salad has fennel, oranges, radishes, and almonds. Quercetin an antioxidant found in fennel is found helpful in treating psoriasis and diminish fine lines and wrinkles. The dressing uses the dates as a sweetener rather than refined sugar, which is known to trigger acne.
Main Dishes
Tuna in a bell pepper is a little different, but it actually sounds good. Tuna is again a great source of selenium and antioxidant which proves to protect against the damage caused by UV exposure. The peppers are high in Vit C with promotes and maintain firm skin.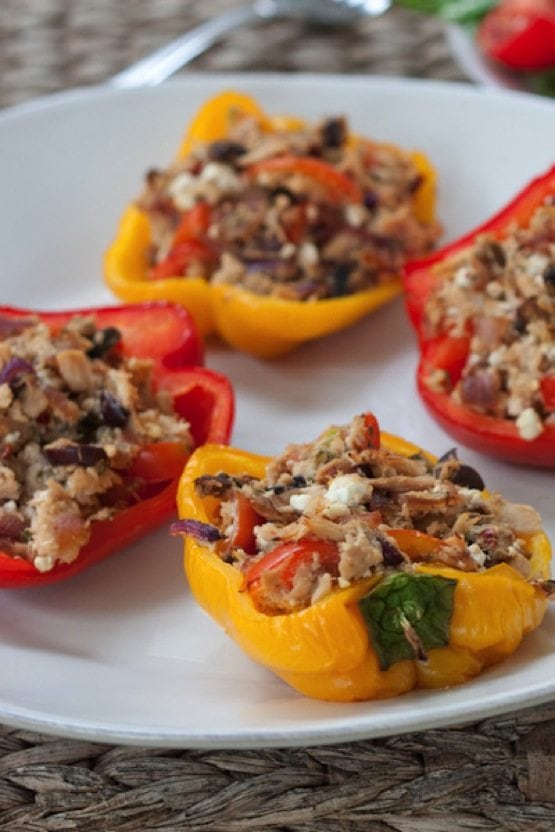 Crushed nuts replace breading as a gluten-free alternative to coat chicken and create a crispy outer crust. The crust has high levels of Vit. E which protects from damage caused by the sun. The sauce is chalked full of polyphenols, because of the onions and cherries, which protect your skin from free radicals.